Chicken Fajitas
spiced to your liking
King Prawns
Sweet Chilli & Lemon Grass
Locally sourced venison
cooked to your liking
Dalmore Inn & Restaurant
The chefs and staff of the Dalmore Inn would love to welcome you to our unique restaurant where you can be assured of an attentive service and excellent cuisine.
Situated just outside the market town of Blairgowrie, Perthshire, in the heart of Scotland, we take great pride in sourcing fresh local ingredients to ensure our menu is varied and reflects our love of Scotland! Our head chef Iain Naysmith thoroughly enjoys creating each and every item on our menu as well as creating Daily Specials using whatever is in season. Our menu often includes pigeon, duck, grouse, quail and guinea fowl as well as beef, venison, hare and rabbit. To meet demands, since opening in 2009 we have added a Light Lunch and Steak Menu which both prove popular. See our menus here.
Open every day from 11am until 8.30pm, you can join us for lunch, dinner or just a coffee, we are here to make your visit an enjoyable, relaxing experience. Whether you visit for a Special Occasion or for a family meal as children are welcomed, our aim is to serve you.
Keep an eye on the website and our Facebook and Twitter accounts as we provide regular updates and details of events.
If you would like to get in touch with us or book a table then you can use our Contact Us page.
The Dalmore Inn Team
Professional staff
Our highly trained and experienced cooks are experts in creating the finest dishes from locally sourced ingredients.
Menus
Our menus are Scottish based and updated regularly as the seasons progress bringing you the freshest dining experience.
Catering service
We cater for events such as funeral wakes, birthday parties and special occasions - contact us to find out more.
Chef recommends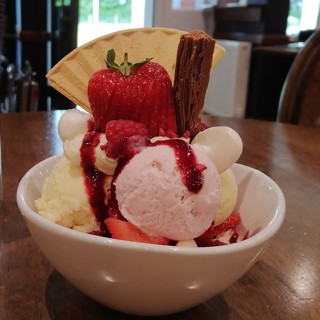 £9.50
Eton Mess Sundae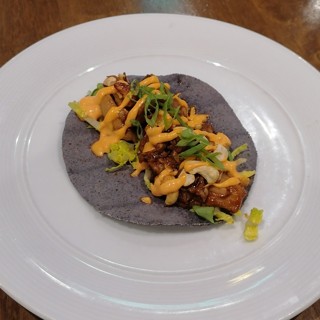 £8.95
Honey, Garlic & Soy Confit Chicken Tacos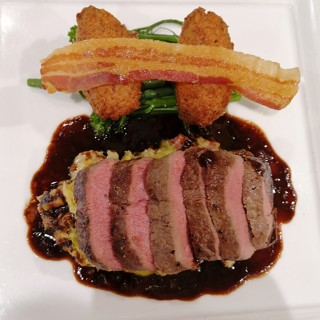 £21.95
Roast Saddle of Venison
Our customers say…
Friendly and attentive staff...happy to accommodate my gluten free request. Local gins by Persie... Enjoyable family meal, I always enjoy their steak menu excellent value and choices.
H Black | Jan 2020
Family get together. Comfortable on large sofa's in front cosy fire. Selection home bakes tea and coffee for two £11.95. I opted for a large warm fruit scone with cream and jam delicious!
J Ward | Dec 2019
Lovely place. Food was excellent and came out quickly. Waiting staff polite and efficient. Thanks so much
M Bews | Jan 2020